On April 1st, 2021, the Graduate Assembly Delegates unanimously voted to pass Resolution 2104A to establish the Sylvia Bracamonte Memorial Scholarship. This scholarship was created in collaboration with Berkeley Underground Scholars to honor the legacy of Sylvia Bracamonte, a woman who dedicated her life to social justice work and forever changed the lives of those around her. The purpose of this scholarship is to preserve Sylvia's legacy, honor resilience in public education, and support the University's commitment to access, equity, and inclusion.
Learn more and apply for the fellowship at www.sylvialives.com/sylvia-lives-scholarship.
Congratulations to the 2023 Sylvia Bracamonte Memorial Scholarship Winners.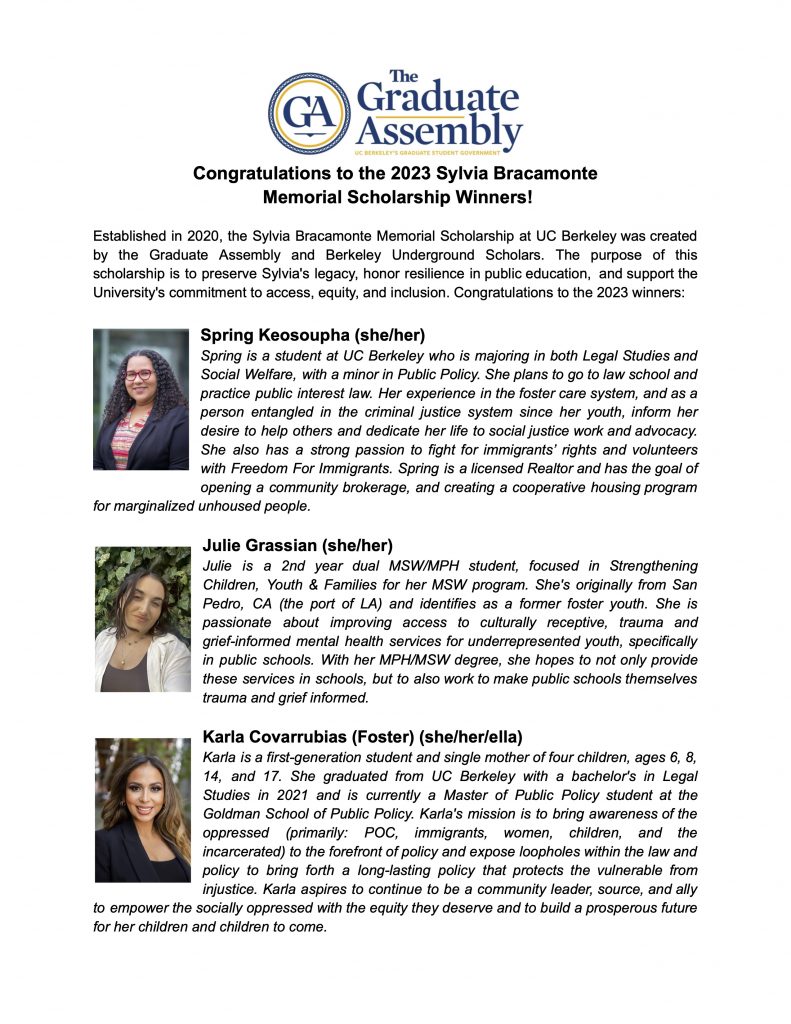 ---
Remembering Sylvia Bracamonte
From SylviaLives.com: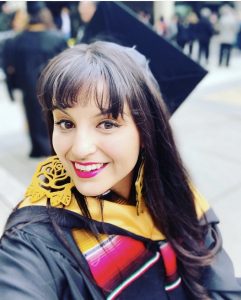 On March 20, 2020, our community lost a brilliant woman, loving mother, a loyal friend, a fierce revolutionary, and an intelligent trailblazer. Sylvia Rita Bracamonte was a social justice warrior who dedicated her life to vulnerable people – especially women and youth. She led by example through praxis and was never afraid to use her voice to elevate the struggles of those most oppressed and forgotten in society. In partnership with the Graduate Assembly & the Centers for Educational Equity and Excellence, Underground Scholars Initiative at Berkeley is establishing a scholarship to continue to carry her warrior spirit, her resilience, and her dedication to scholarly work.
Sylvia Bracamonte saw academia not only as a pathway towards a better life for her and her children but also as a liberatory tool. A tool that could disrupt the oppressive systems that she worked so hard to overcome. Sylvia's tenacity and resolve are just part of her legacy. Sylvia dropped out of high school and struggled for several years before entering Santa Rosa Community College. During this time, she lived in a shelter with her young son. It was at this time that Sylvia found a pathway forward through higher education. Sylvia was the first in her immediate and extended family to pursue higher education and upon graduation, became the first-ever Latina Valedictorian at Santa Rosa Community College.
Sylvia went on to complete both a BA in Social Welfare and Ethnic Studies with High Honors at UC Berkeley in 2017. While completing her undergraduate studies, she conducted in-depth, independent research through the McNair Scholar program. Her work on policing and criminalization practices was published in the spring 2017 McNair Research Journal. This work reflected her dedication to giving back to her own community by returning to the structural issues that heavily impacted her experiences growing up. Sylvia went straight on to pursue her Master's in Social Work at UC Berkeley with a concentration in Strengthening Children, Youth, and Families. During her time at Berkeley Sylvia was involved as a leader in Underground Scholars, The Latinx Center of Excellence, the Student Parent Center, and the Basic Needs Center. Upon graduation, Sylvia went back to her community to work with house-less youth and young adults in a program where she was ultimately killed by a young person she helped. Sylvia Bracamonte died doing what she loved most, helping those most forgotten by society, and has left her legacy and spirit in all of our hearts.