General information
Check out our 2022 New Graduate Student Orientation Presentation if you would like to find out more about who we are, what we do, what resources we have for graduate students, and how you get get involved!
Mission
The mission of the Graduate Assembly is to improve the lives of University of California, Berkeley graduate students and to foster a vibrant, inclusive graduate student community. The Graduate Assembly is the official representative body of the graduate and professional students at the University of California, Berkeley. The fundamental principles of the Graduate Assembly are the promotion of a vibrant student social life, inclusiveness, activism, community service, educational improvement, and professional development. In service to these principles the Graduate Assembly advocates for students, funds student groups on campus, and directly manages a variety of projects.
Legislation
Interested in getting involved on campus and meeting people from across the university? Consider becoming a Delegate for the Graduate Assembly, UC Berkeley's official legislative body for graduate and professional students. Delegate representatives come from all academic units, departments and schools. The GA holds delegate meetings on the first Thursday of every month (second Thursday of September) to discuss campus issues impacting graduate students and to create advocacy initiatives to improve the overall graduate experience.
Graduate students also have an opportunity to serve on various campus committees with other students, faculty, and administrators. There are over 70 committees on campus that focus on a range of issues such as mental health and wellness, student fees, classroom policies, work-family, sustainability, and ethics. The majority of campus decision-making takes place in committees, making graduate student representatives a critical source of information for the GA.
Funding
Each year, the Graduate Assembly dedicates one-third of its annual budget to support the funding needs of graduate student groups. The GA funds registered student groups and student publications, in addition to providing space for events.
The Graduate Assembly also offers travel awards for students presenting research at professional and student conferences.
Advocacy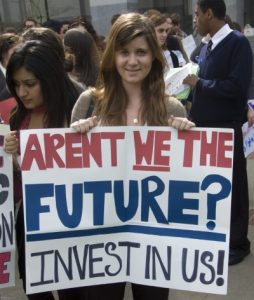 The GA represents the interests of graduate students on campus and in the community at the city, state, and federal level. The GA appoints graduate student representatives to campus-wide and administrative committees to ensure that student opinions on critical issues are heard. Such committees include the Graduate Student Mental Health Advisory Committee, Student Technology Council, and Committee on Student Diversity and Academic Development.